Exceptional Landscapes & Hardscapes • Outdoor Living Areas • Design & Installation
A well-landscaped yard does not happen by chance. It takes creativity, vision, knowledge, and the experience of a landscape designer. Most of all, it takes LISTENING TO OUR CLIENTS! We want to deliver the outdoor living area and landscaping of your dreams – that does not happen by telling you what we want, but by asking pinpointed questions to create what you envision for your landscape.
Properly planned and executed outdoor design and landscaping gives you beauty, depth, and an organized, serene living space from early spring to late fall. Our goal is to take your vision mixed with our expertise and design and install an outdoor living area that has a lasting impact and value, and gives you much joy.
Bobby K the Rescue Landscaping Team will stand out from all the rest and make you fall in love with your yard again!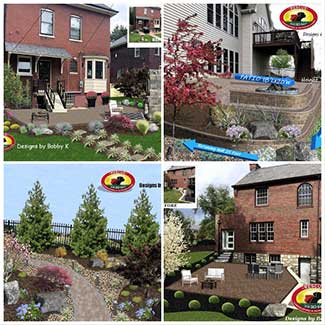 What Can We Do With Your Yard?
When you work with us to design your landscape, you will receive several options to choose from that are within your budget.
Once you choose a design, we provide a 3D computer-generated drawing of our plan that enhances a photo of your yard and house so you can picture exactly what the final product will look like before construction. You won't believe how amazing and realistic this looks!
Hardscapes & Softscapes
Our designs are unique because we incorporate both hardscape services and softscape landscape services.
Our hardscape services include outdoor kitchens, custom fire pits, outdoor fireplaces, backyard water features, paver patios, walkways, pergolas, gazebos, covered areas, and retaining walls.
Our softscape services include landscaped beds, planters, bushes, shrubs, trees, and proper drainage systems.
Creating beautiful, functional, sustainable landscapes that stand the test of time is what we deliver! Please download our Free Planning Guide, located in our eBook, and start dreaming of realizing your vision of living an outdoor lifestyle. Contact us for your free quote today! (314) 363-9417