Block, Stone, Concrete Retaining Walls for Your Landscape
If you need a hillside wall or a full retaining wall solution, we have experienced designers and installers on staff and several types of stone products to fit your needs such as concrete blocks, dry stack stone, and boulders.
Proper Wall Installation
Once you choose a wall design, we take safety very seriously and follow the process to ensure the installation and final product meets code. If permits are needed, we pull them for you. We take several important steps to make sure your new wall is safe, long-lasting, and beautiful:
Proper excavation

A level base

Drainage and drain pipes

Separation of the dirt behind the wall with fabric

Add a geo-grid if needed
Once your wall is finished we add topsoil for planting and perform a thorough cleanup so your yard looks just like before. You will get a custom retaining wall solution with Rescue Landscaping & Outdoor Living that is sure to please you for years to come. 
If you would like us to add foliage and professional softscaping to your retaining wall area, we can do that too! In fact, it doesn't seem complete without flowers, trees, shrubs, and trailing vines to finish the look and enhance the beauty of your new wall.
Take a look at some of our retaining wall and landscape designs and see for yourself the difference a professionally planned area can make. Then be sure to contact us for a free quote.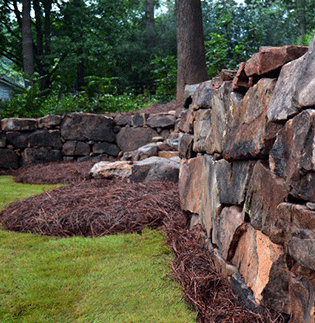 Personal Service & Landscaping Design Expertise
Our locally-owned business understands what personal service and great results mean – we have formed our reputation on honesty, impeccable service, responsiveness, and a willingness to go the extra mile for each and every customer.
We are members of your community dedicated to continued design expertise, safety, quality, and giving back. We value you and your needs and promise to provide the best landscaping design and service possible.
There's no time like right now to add a beautiful, functional retaining wall and outdoor living space and fall in love with your home all over again. We love to educate and help you with your landscaping designs. If you're not sure where to start, check out our landscaping design tips or give us a call,  (314) 363-9417, for help. It's what we love to do!