Custom Outdoor Fire Pits & Features
A custom backyard fire features with a seating areas is the ideal spot for friends & family to gather. You can design your fire pit to your desire & layout with Rescue Landscaping & Outdoor Living. Regardless of if you want a custom fire pit, fireplace, or even a pizza oven we can help. Our professionals are ready to help you through the designing process to get you the perfect fire feature for your backyard. We will walk you through all the options such as the type of fuel, style, design, color, size, & more.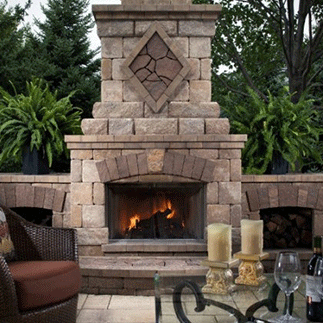 Chimneys Like No Other
Building your chimney is all about quality. Our chimneys are not mortared together because the changing temperatures will cause the mortar to expand & contract leading to cracks. When the mortar cracks, the veneer comes loose, & repairs are needed. Instead, Rescue Landscaping & Outdoor Living uses GFRC (Glass Fiber Reinforcement Concrete) which is twice as strong as normal retaining wall blocks & can hold up against any weather conditions. You have the option of several stone looks orpatterns your chimney such as: random flagstone pattern, dry stack, ledge rock, & a rock faced boulder look.